IBEW 44 History
Q

uality

at

Work ...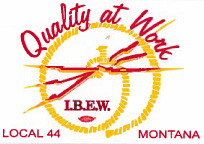 ... the motto of over 1,200 Montana working men and women who form IBEW Local Union 44.
Our mission is the promotion of human justice and dignity in the workplace.
We are proudly composed of members that are employed in Montana's Utility, Utility Locating, Outside Line Construction, Radio – Television Broadcasting, Shopmen, and Line Clearance Tree Trimming and Motor Shop Work.
Headquartered in Butte, Montana, IBEW 44 has a territorial jurisdiction of 94,000 square Miles(if this were a state it would be the 12th largest state in the United States), and represents employees of over 35 different employers.
We are committed to the principle that "An injury to one is an injury to all", and we strive to be an effective voice for those who seek our assistance.
The very first contracts with the Montana Power Company date back to before WW1, 1912. IBEW Local 44 was formed by Montana Power Company employees on November 1st, 1959, to unify their numbers and voices into one organization, thereby consolidating their bargaining strength. Later through mergers and transfers such as (IBEW Locals 65 Butte, 122 Great Falls, 185 Helena, 393 Havre, 402 Dillon, 416 Bozeman, 532 Billings, 552 Lewistown), organizing and the transition of other bargaining units, Loca1 44 has become a large player in the electrical industry in Montana and the Eighth District of the International Brotherhood of Electrical Workers.
Today the local works with its industry partners to make Montana one of the safest places in the Last Best Place to live and work. From Community events like the Montana Lineman's Rodeo held every year in July, Labor day picnics across the state. Being active in the Montana State legislature as well as local and community governments. Investing in the Next Generation of Electrical workers with IBEW 44 RENEW. Local 44 is here to keep growing and powering up Montana for generations to come.
Page Last Updated: May 25, 2021 (08:52:34)