FROM THE BUSINESS MANAGER
Hope you had a great day of Thanks Giving! Each one of us must take a moment to appreciate what we have. If you count your blessing you will see we in this industry are truly blessed. By standing together we have raised the standard of living not only for ourselves and our families but the whole of working people. Now is a good time to think of our brothers and sisters who have through no fault of their own had bad times and struggles befall them. As now we enter this Christmas Season, the season of giving, remember those less fortunate. If you can donate to your local food bank please do, one other thing that you can do and I know is greatly appreciated, and is one of the best of causes, is the USMC, "Toys for Tots" Christmas Drive. Our Brother Dave Farris has been involved with this project for years, if that ornery ol' fart supports it; you know it is a great cause! You can donate at any of the collection sites across this state. A very Merry Christmas to All!
At last look we still have 10 calls for Journeymen Lineman on the Board and I think I have signed more travel letters in the last two weeks than I have in a year. I am getting calls literally from across the nation of Locals looking for Lineman. Outside I see the first major snow fall of the year so the construction season is going to slow down but hopefully we will have enough work to keep some at home.
As of letter writing time, we still haven't heard back on Hill County's arbitration case and are just entering another case. It is a good process put in place to resolve issues but it is SSSSLOW. Meanwhile, negotiations are still ongoing with Northwestern Energy and the OMS/Mobile Dispatch group. These too have been grueling but I have reason to believe we will soon start to make head way.
By the time you read this letter there will be a Henry's Rifle in the Hall I want you all to buy raffle tickets for. As a matter of fact, you can go to any RENEW Club member and get tickets from them as well. All the proceeds will go into the Brotherhood Fund which goes to helping our Brothers, Sisters and communities in need. It can help with a holiday meal or a room while a loved one is in the hospital. Renew is out there to build a stronger Community the UNION way! Working together to better lives!
In this next month I would challenge all of you, to make a resolution to make a safer and better place to work. If you have an idea how to do that send it in with your name on it and we will post it on the web site. This office will be posting our commitments along with yours on our website in January.
Be safe and Merry Christmas to you and yours!
See you at the Open House and General Meeting in Butte at the Hall on December 14, 2018 at 1:00pm.
Last item: Rob Buhl and the Montana Fishing report!
Rob, I am sure wanted to tell you that his hunting season has been great and occupying his time. His wife Kari has out hunted him again this year! Getting a bigger Bull, bigger Buck and bigger Antelope then he did. Also, I am sure he also wants to share with you information from across the state, mainly that his niece and nephew, Cory and Ellie, from Conrad got their Big Bucks as well. Good hunting. Back to fishing, one more thing I am sure he wanted to share was that his Dad, Dan Buhl, a retired Union worker in Polson, has been picking up some nice Lakers up at Flathead, 8-10 lb fish that smoke up really well. Thanks again for the report Rob!
Bill
DAVE PIPPIN
November 20, 2018, it is with a sad heart that I pass on the message I received only this morning. My friend a long ago pole partner and a true hand, Dave Pippin passed away. I don't believe you could know a better man; he truly would give you the shirt off his back. Dave was fun to be around, a character who loved to tell a story and was sure to make you laugh. I apprenticed for this man and learned a lot about linework and about life in general. If the Northern Lights are strung from Heaven they will burn brighter tonight. There is no doubt he will have a tale to tell about his journey up there, and another one about the people he met along the way. Rest in Peace my good friend. You will be missed.
MEMBERSHIP & EMPLOYER DEVELOPMENT
It has been so GREAT to turn on the TV, the radio and NOT HEAR any more political ads!!! I also have enjoyed getting to the different lay down yards and docks getting to meet more members. I have been able to meet all three apprenticeship classes as well.
I really enjoyed this year's fall classic! Hunting season will soon be over and time for New Year resolutions! The time has flown by this year some days I wish I could make time slow down. I will try to get out to the sites, the meetings and gatherings to meet more of you.
In the meantime, if you know of anyone who wants to know more information about our Local please let me know.
The RENEW Update
RENEW Officers held a meeting November 17, 2018 in Great Falls. The agenda included fundraising and finalization of bylaws. Zach Smith attended and is willing to fill out the RENEW board with the last member at large office. The next meeting will be December 1st, 2018 at 11:00am. We will meet at the Great Falls Labor Temple, 1112 7th Street South. This meeting is open to anyone who wants to learn more about RENEW.
On October 15th in Great Falls at the Fair Grounds there was the LIFE (Learn Interact Formulate and Educate) event. This gives area students a chance to get hands on, ask questions about apprenticeships or to learn about careers they may never have known about! If you know of a career day event going on, know a career counselor, or have an in to any educational facility please let any RENEW officer or myself know so we may take advantage of the opportunity.
As always please register for the website, after membership is verified you will have full access to the website. IBEW 44 has social media accounts. Visit the web page to access the social media accounts and PLEASE feel free to add content, appropriate content please!
Fraternally,
Dwight Rose
D988003
406-459-3548
JOURNEYMAN UPGRADES
Local 44 would like to congratulate the following members for achieving Journeyman status:
Lawrence Berner – Journeyman Lineman
Charles Carroll – Journeyman Lineman
Ryan Hartman – Journeyman Lineman
Great job and best wishes for a great career!
LOCAL 44 MERCHANDISE
The Hall has Local 44 merchandise in stock. Short sleeve T-shirts are in black with or without a pocket. Sizes come in Medium – XXX-Large, with a price of $20.00. Hooded Sweatshirts are black with the Elk Logo. Sizes come in Medium – XXX-Large, with a price of $40.00. We also have hats for $20.00. Please contact the Office if you would like to purchase any of this merchandise. We will ship it to you with an invoice if necessary, or you can charge it to a card.
T-SHIRT SWEATSHIRT HAT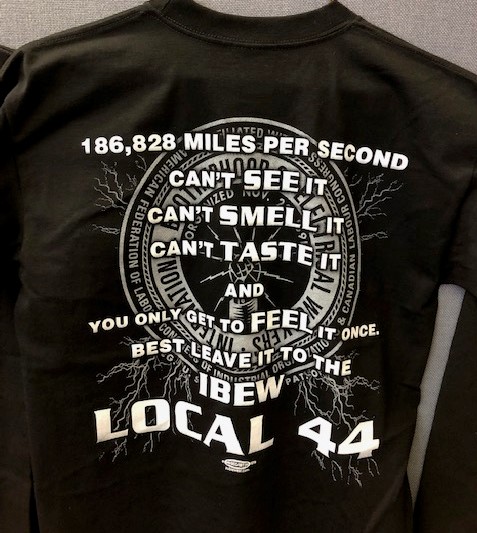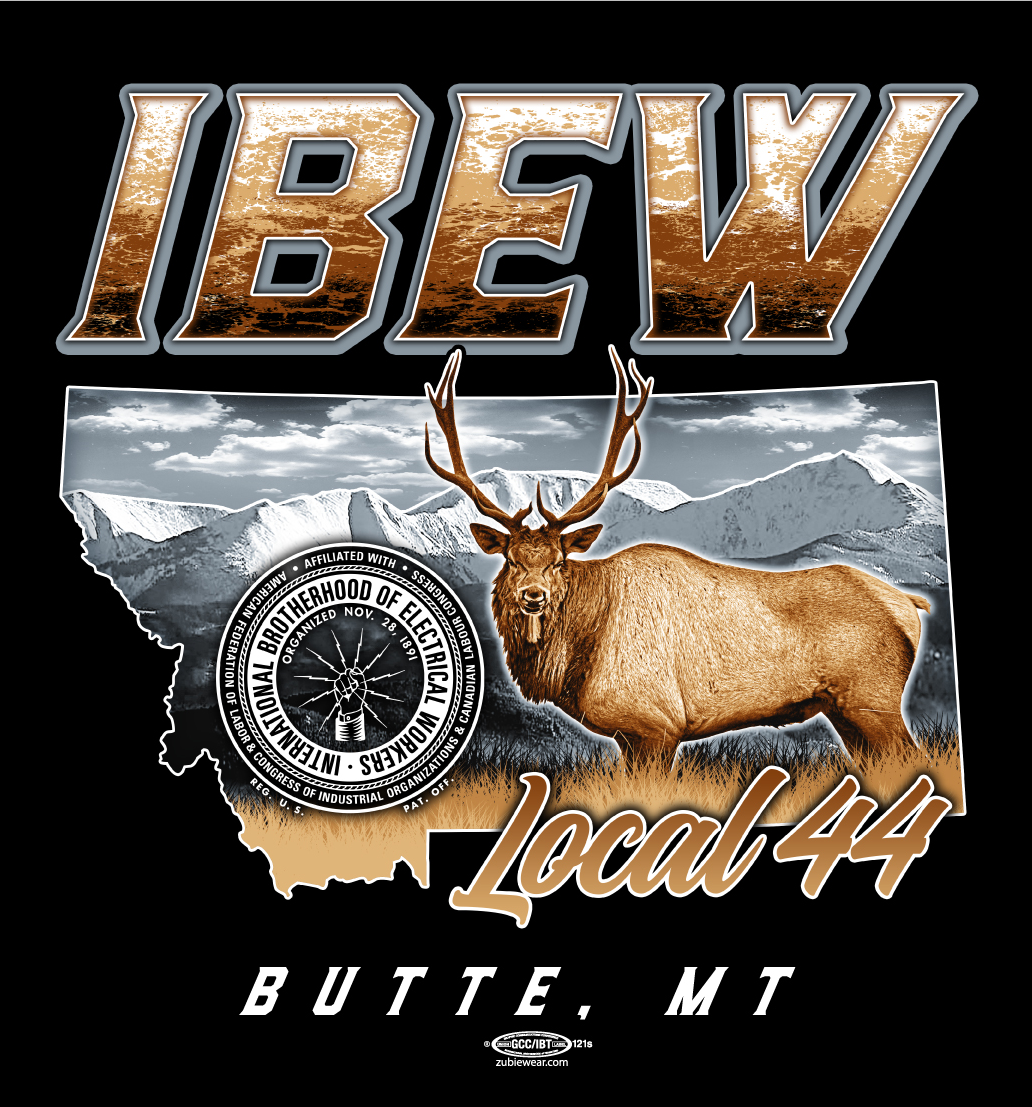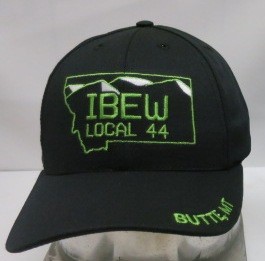 SCHOLARSHIPS
The IBEW Founders' Scholarship honors the dedicated wiremen and linemen who founded the International Brotherhood of Electrical Workers. Each year the officers of the IBEW are pleased to offer its working members scholarships on a competitive basis. It is hoped that the awards will not only contribute to the personal development of our members but also steward the electrical industry that our founders envisioned. The application is available on the IBEW website at www.ibew.org/FoundersScholarship. Spouses or children of IBEW members are not eligible for the IBEW Founders' Scholarship.
Union Plus has a scholarship that is available for IBEW members, as well as their spouses and dependent children. Please visit the Union Plus website at www.unionplus.org for more information about other scholarship opportunities.
NettWorth Financial Group, Donna Castleberry Scholarship Fund, awards thousands of dollars in college scholarships to children of America's union members. For more information please visit www.nettworth.net or call 1-888-224-5021.
RETIRED MEMBERS
Local 44 would like to congratulate the following members who have retired from the trade:
Charles Hopkins Jr. – Operator
Chuck Whitmore – Meter Reader
Best wishes for a long and happy retirement!
DECEMBER UNIT MEETINGS
So that our members and their families can take more time to enjoy the holidays, there will be only one General meeting scheduled in December.
The annual Great Falls Christmas party will be at the Labor Temple at Noon on December 1, 2018.
Local 44 will have a Holiday Open House/General Meeting on December 14, 2018 at the Union Hall at 1:00pm.